WHAT TYPE OF COURSE

All Australian qualifications are globally recognised. Graduating with an Australian qualification will give you a competitive edge. Other governments, international employers and institutions around the world recognise the value of an Australian qualification and the high quality of our education system.

Here you have the freedom to choose the study option to suit your goals. You can study at universities, vocational education, schools and English language training.

Australian Government has set up the legislation to protect your right to access a quality education. All Australian education institutions that enrol international students must be registered with the Australian Government and meet high standards of quality and ethical practice. These standards relate to curriculum, qualifications of teaching staff, facilities, specialist equipment and te. You can also be confident that the fees you pay for your course are protected.
Institution type
There are basically 3 types of education institutions in Australia:
INSTITUTION TYPE

FEATURES

Schools

both large and small.
Public and private
offer primary and secondary education.

Colleges

both large and small.
public (TAFE) and private.
normally with adult age students.
offering English language courses, vocational (work-training) courses, university preparatory courses and some Bachelor degrees

Some colleges (both TAFE and Private) are part of a larger University and located on university campus, such as SIBT (on Macquarie University Ryde campus) and Insearch (on UTS campus)

Universities and higher education

large.
adult age students
most are public while few universities are private.
offering academic and vocational courses.
Student Facilities
The student facilities vary with the size of the institution. In addition to classrooms and lecture theatres, the institutions will normally have:
•    Libraries and computer access for students.
•    Accommodation services, most universities will provide on campus residential accommodation while most schools will provide home-stay, especially for students under age of 18.
•    Sporting and recreational facilities (including special interest clubs).
•    Religious facilities.
•    Counselling services.
VOCATIONAL STUDY
The VET sector offers eight qualifications:
| | |
| --- | --- |
| QUALIFICATION | DURATION |
| Certificate I | 3 – 6 months |
| Certificate II & III | 6 – 12 months |
| Certificate IV | 1 year |
| Diploma | 1 - 2 years |
| Advanced Diploma | 2 – 2.5 years |
| Vocational Graduate Certificate | 6 months |
| Vocational Graduate Diploma | 1 – 1.5 years |
Certificates

The general aims of Certificate level courses are to:
•    prepare candidates for both employment and further education and training;
•    recognise skills and knowledge that meet national industry standards.
Certificates I and II are qualifications which recognise the students' basic vocational skills and knowledge.
Certificates III and IV are the equivalent of trade certificates in various vocations. These prepare students for both employment and further education and training in their chosen field.


Diplomas

Diploma courses aim to:
•    prepare students to use their skills and knowledge based on fundamental principles and complex techniques;
•    recognise the ability to show initiative and judgement across a broad range of technical and management functions;
The Advanced Diploma is a more specialised qualification that shows skill and knowledge of a greater complexity and a higher level of personal accountability.


PATHWAY TO DEGREE

A major strength of the VET system is that it provides an alternative pathway to higher education or more specialised vocational training.
The registered VET providers and universities established Articulation and Credit Transfer Arrangements. Credits are granted towards qualifications through assessment of an individual's knowledge and skills gained through education, training, work and life experience.

The AQF pathways diagram is shown here: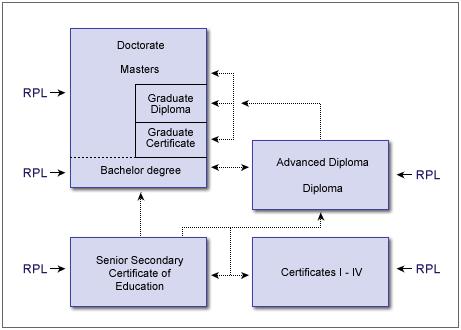 For Further information please contact us.