Institutions
There are basically 3 types of education institutions in Australia: Schools, Colleagues and Universities.
UNIVERSITIES
Australian Universities are located in all major State and Territory capital cities as well as in many regional centres.
The locations of their main campuses are given in the table and diagram below:
STATE / TERRITORY

UNIVERSITY NAME

LOCATION OF
MAIN CAMPUS

Australian Capital Territory

Canberra




Canberra

New South Wales

Sydney




Albury-Wodonga




Sydney




Lismore




Newcastle




Armidale




Sydney




Sydney




Sydney




Sydney




Wollongong

Northern Territory

Darwin

Queensland

Gold Coast




Rockhampton




Brisbane




Townsville, Cairns




Brisbane




Brisbane




Toowoomba




Maroochydore

South Australia

Adelaide




Adelaide




Adelaide

Tasmania

Hobart

Victoria

Geelong




Melbourne




Melbourne




Melbourne




Melbourne




Ballarat




Melbourne




Melbourne

Western Australia

Perth




Perth




Perth




Perth




Fremantle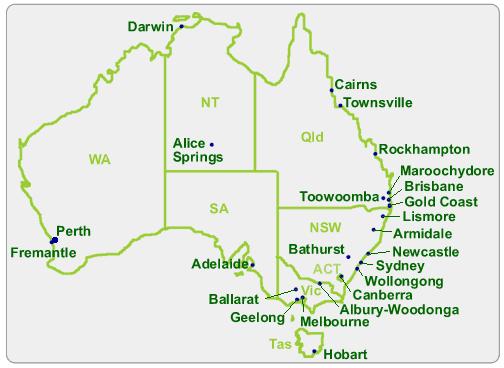 SCHOOLS
Australian schools are either government or non-government, and they aim to focus on the individual learning needs of their students.



Government and Non-government Schools
There are some important differences between these 2 types of schools:
GOVERNMENT SCHOOLS

NON-GOVERNMENT SCHOOLS

- they are operated by a State or Territory government.

- they are not owned or operated by a State or Territory government.

- Australian students normally do not pay substantial tuition fees to attend these schools.
- international students and the children of international students are required to pay fees.

- international students usually pay higher tuition fees than domestic students.

- the marketing and enrolment of students is controlled by the government education department in the particular state or territory.
- when agents recruit students for these schools, they communicate with a department representative and not the individual school.

- they recruit students directly, so agents communicate with non-government schools in all matters regarding recruitment and enrolment.

- they address a variety of social and cultural philosophies.

- they may have a particular religious or cultural philosophy, which is clearly reflected in the student experience.

Certain selective high schools will not accept international students

Individual schools have their own admission criteria and sometime, interview is required.
Individual Learning Needs
The school system aims to meet the learning needs of each individual student. This helps each child reach their full intellectual and educational potential. Study programs are child-centered and focus on the development of learning skills and strategies, which trains students to be life-long, self-motivated learners.
Australian schools usually have a number of characteristics:
A teacher's role

The teacher aims to assist students in reaching their individual learning goals.

Class activities

Students commonly undertake projects, group work and self-directed learning.

Dress codes

Most schools enforce dress codes or have a uniform to promote a sense of equality and to maintain a focus on education instead of fashion.

Class sizes

These are kept as small as possible, so teachers can regularly interact with students on an individual basis.

School hours

Schools operate from 9am to 3pm, Monday to Friday. Before-school and after-school care is generally available to those students who require it.

Teacher training

Australian teachers are nearly all university trained, with secondary school teachers having specialist qualifications in their subject area.

Special programs & services

These are available for:
- gifted students
- students with disabilities
to help them reach their fullest potential.

English support

International students often have access to English language support to help them adapt to their new school environment.